Posted on 01
th
, Aug 17
House relocation is stressful and time-consuming especially if you have a lot of furniture to move. Bulky furniture is hard to pack and there's a chance that your furniture could get damaged during the move if it's not packed properly. Here are a few tips to help you organize for safe furniture removal.
Plan Early. Don't underestimate the time and effort that goes into organizing a smooth home or Office Removal. It's advisable to start your planning and preparations at least two months prior to your move. Make a list of all the items that you will taking with you and get rid of all the items you don't need.
Get good quality packaging materials. Once you've made your list you'll have an idea about how much packing material you will need. Either buy or borrow packing material such as boxes, plastic wraps, bubble wrap and tape. You can also use old rags or blankets instead of bubble wraps.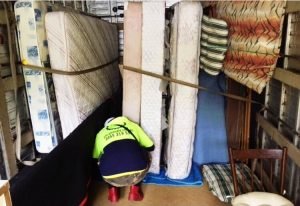 Disassemble Furniture. Remove all items from your drawers and wardrobes and pack them separately. Disassemble any furniture that can be taken apart. This saves space and makes it easier to carry bulky furniture during the move. You might need to refer to a manual to properly disassemble the furniture. Make sure you properly pack and label the screws, nuts and bolts that you have removed.
Proper Packing. Pack the disassembled pieces in removal boxes and use bubble wraps to prevent damage to the furniture. Properly label the boxes or use color-coded stickers to differentiate the boxes. This will make unpacking a lot easier. Fragile items should be packed in separate boxes and labeled 'fragile'.
Consider enlisting the services of a Professional Removals Company for a quick and efficient move. Professional removalists can help with proper furniture packing and moving since they have a lot more experience handling heavy or fragile items.
Leon Kennedy Removalists and Storage Pty. Ltd has been in the moving business for four generations. We provide furniture removal services in Vermont and in the Eastern Suburbs of Melbourne. We also offer quality packing materials and furniture storage services. For more information call 03 9842 3148