Top left: Luton Peak and side skirts make for the right mix between a traditional and modern truck.
Above left: Leon and Loris Kennedy with the fleet flagship
Above: Leon s FL80 can shift a 4/5 bedroom houseful of furniture across town or across the nation
Left: Size counts when it comes to shifting big households, but it does sometimes make for tricky maneuvering

Read The Full Media Article Below
Leon May label truck driving a rat race but, in truth, he loves the work. He adds that- In a round – about way – his second wife to blame for his return to the transport industry. I hadn't really thought too much about going back, he explained. But my wife's best friend was a truck driver so she was the one that started me thinking.
New Start
Leon s aim was to build his Removals Business Donvale up, with enough work to keep him busy driving – but not too much – so that he s forced into the office to manage the load. Today he runs a three truck fleet of removals vans: two Isuzu a five tonne and a nine tonner and the flagship, Leon s FL80 Freight liner.
It's family run operation with his wife Loris and daughter Adele backing up in the office while sons Travis and Cameron the fourth generation help out after school and on school holiday.
We go for the good staffs, Leon said of his removals business. I cart to tonne of packing in the Freightliner and can shift a four to five bedroom house. We also specialise in antique furniture but will have a go at anything.
The Freight liner was ordered through the Benz company store at Mulgrave, on the outskirts of Melbourne, and came into consideration after Leon had worn out a trusty Isuzu JBR500. According to Leon, he d covered so many miles in Isuzu it d become like his second skin  It did a good job, he recalled. She was 19 years old when we got rid of it. It had a new engine and new gear box and done well over a million kilometres
36 Truckin' Life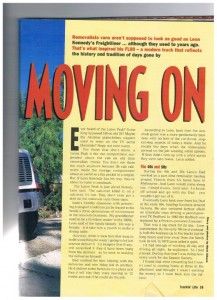 As a reliable worker, the Isuzu was right up there, but it had one major flaw that kept Leon away from upgrading at the local Holden dealer. It was the cabover design. For Leon, his new truck had to echo the removals van of days – gone – by and that put the Japanese trucks out of contention.
Moving On
Ever heard of the Luton Peak? Some long bypassed hill on old 31st? Maybe the Akubras plainclothes coppers used to wear on the TV serial Homicide? Nope, not even warm.
For those that don't know, a Luton Peak is the van compartment suspended about the cab on old time removalists trucks. You don't see them too much anymore because tilt cab cab-overs made the storage compartment about a useful as a hip pocket in a singlet. But, if Leon Kennedy has his way, they are about to make a comeback.
The Luton Peak is just about history, Leon said. The cab-over killed it; on a cab-over it s lost. They don't even put a skirt on the removals van these days.
Leon s healthy obsession with preserving transport tradition can be traced to his family s three generations of involvement in the removals business. My grandfather used to be a furniture maker in 1920s, Leon said of the family. He was a fanatic it d take him a month to make a dining table.
Anyway, when it took him that long to build something he wasn t going to let just anyone deliver it I d imagine that if anyone scratched it they d have been hung from the mirrors so he took to making the deliveries himself.
Dad worked for him helping with the deliveries and one thing led to another. He d deliver some furniture to a place and they d tell him they were moving in 12 weeks and ask if he could do the job.
According to Leon, back then the removals game was a more gentlemanly business with no hint of the cut-throat. Dog-eat-dog aspects of today s trade. And he recalls the days when the Removalists arrived on the job wearing white aprons. If they didn't turn up with a white apron they were send home, Leon added.
The 40s and 50s
During the 40s and 50s Leon s Dad worked has a part time removalist hauling around Victoria from his home base in Melbourne. And Leon would come along too. I loved trucks, Leon said. I d knock off school and go with my Dad you wouldn't get out of it.
Eventually Leon took over from his Dad in the early 60s, hauling furniture around Victoria. He also ventured further afield on interstate trips driving a petrol – powered TK Bedford. In 1965 the Bedford was replaced by a Perkins – powered Commer.
That was a big truck for its day, Leon commanded. By the early 70s he d eventually build the business up to five trucks but the long hours and time away from the family took its toll. In 1973 Leon called it quits.
I'd had enough off working all day and driving all night, he explained. So I had a break. During that time I was doing honorary work for the Spastic Society.
I found that most rewarding but I wasn't used to coming at three in the afternoon and thought I wasn't earning the money so I went that into the rat race.
Above & Below: All in a day's work. Taking a FL80 through the suburbs hasn't posed too many problems
All the cab-overs started looking the same he reckoned. And unless they re sign-written, you wouldn't know that it was a removalists truck. We would a furniture van with a fixed cab for a Luton Peak and skirts down the side so that we could keep a part of the tradition alive.
Classic and Modern
What Leon entered up with is a combination of both classic style and modern truck design. The FL80 is powered by the 275hp (205kW) C-Series Cummins matched to a 9-speed Roadranger transmission.
The tandem drive is a Rockwell RT40145 sitting on a Freightliner air bag set up. Air conditioning Haldex auto-slack adjusters and Bendix air drier compliment the spec.
Leon s truck was put on the road in September last year and, since that time, he has been fending off interest in the truck from admirers and competitors. I was in Brisbane recently and my opposition up there reckoned it was the ultimate furniture van, Leon claimed.
They're tough competitors so I reckoned that wasn't a bad compliment. But, everywhere I go, I get a lot of feedback with the truck the best yet come from the scalles at the Seymour weighbridge operator. He reckoned it was best – looking truck he d seen. I thought jeez mate haven't you seen any long nose Kenworths lately?
Some blokes have criticised it, Leon admitted. They reckon we lose too much length in the body; but, with the additional space from the Luton Peak, I don't think we lose anything.
The Freightliner s 70 cu. metre body was built by J & S O Dor Engineering from Dandenong – who Leon credits with doing a terrific job. And while he s more than happy with the outcome of both truck and body, there were some reservations about driving a Roadranger for the first time.
Back in the days of the TK Bedfords we had the crash boxes, Leon explained. But I hadn't driven one for 20 years I had to learn all over again. Thought I suppose the Roadranger is the same as a crash box in that, if you don't get your revs right, you don't get the gear.
With 2800 kays under its belt, Leon is pleased with his smart new truck. You can feel it getting better and better every week, he claims.
If you asked me I'd have to endorse the truck it is not as good as sex, but it s getting close, said Leon. Let us know when it gets there and we'll be back…